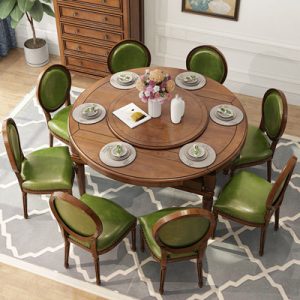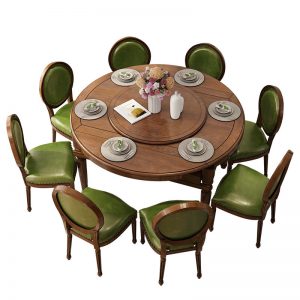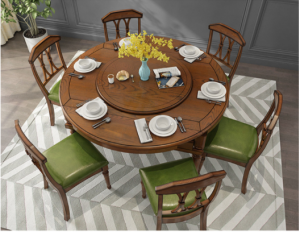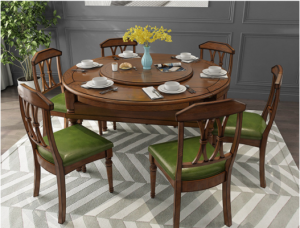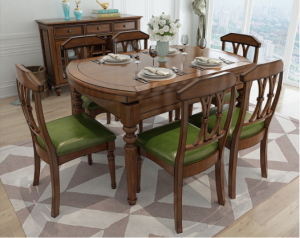 Product Name
Wooden dining table
Products Size
1.35m 1.5m
Weight
Color Choice
natural color  Variety of swatches
Material
Wooden    pine wood
Packaging
Sponge inside and standard exported carton outside ; 1pc/2ctns/0.3cbm
Warranty
2 Years
Application
Home,Restaurant,Hotel, Dining room,Canteen, Office Sofa
Our Service
Good service, including design, manufacture, aftersale and shipping.
Good price, from direct factory you will get good price from us
Fast lead time 15~35days per order
Sample also can send just will have little cost
Feature
American-style solid wood dining table, round table and square table satisfy family dinners. Large space and easy conversion. Rounded corners, good quality and good material
Which kind of wood is good for wooden dining table?
Fraxinus mandshurica is one of the materials not to be missed. The reasons are as follows:
Fraxinus mandshurica: its tree is slightly hard, straight texture, coarse structure, beautiful pattern, corrosion resistance, good water resistance, easy to process but not easy to dry, high toughness, good bonding, paint and coloring properties, and good decoration Performance is the most used wood at present.
The value of    wooden dining table not only depends on the wood it uses, but also pay attention to these aspects:
The first is the processing equipment and technological capabilities of the manufacturers: Generally, large manufacturers handle wood more well, while small workshops will have a worse quality assurance. Even if the wood used by small factories is all real materials, it is because of the equipment. Process problems, or various problems may occur in the future.
   The second is the workmanship: it is not just that the outside is beautifully made, the inner feel, the smoothness and neatness of the workmanship also reflect the quality of the wooden dining table.