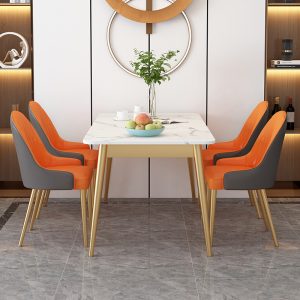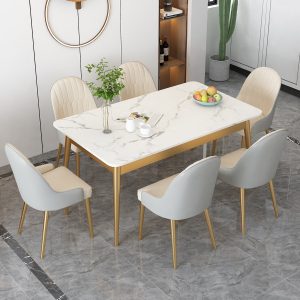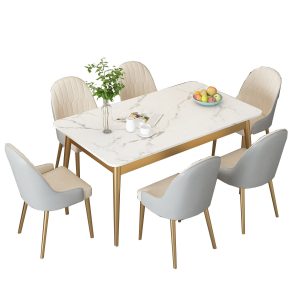 Product Name
Marble Top Dining Table
Products Size
120*60 140*80 160*80
Weight
Marble thickness
15mm~20mm
Color Choice
Black marquina;  Venato Carrara;Dark Emperador;Light Emperador;Perlato Svevo;Golden Cream, custom color
Material
Stainless Steel, Artificial Marble
Packaging
Sponge inside and standard exported carton outside ; 1pc/2ctns/0.3cbm
Warranty
2 Years
Application
Home,Restaurant,Hotel, Dining room,Canteen, Office Sofa
Our Service
Good service, including design, manufacture, aftersale and shipping.
Good price, from direct factory you will get good price from us
Fast lead time 15~35days per order
Sample also can send just will have little cost
Feature
Naturally selected materials, solid and stable. Beautiful appearance and good hardness. High quality, the pursuit of perfection
Analysis of the advantages and disadvantages of marble dining table
The marble dining table is a dining table with marble as the main table. It has the characteristics of marble, high hardness, stable material, no magnetization, can be used for a long time, and is uniquely decorative in appearance, with noble and elegant temperament, highlighting The dining table is even upscale throughout the restaurant. According to the material, this kind of dining table can be generally divided into natural marble dining table and artificial marble dining table. The following focuses on the advantages and disadvantages of the marble dining table.
The advantages of the marble dining table: The marble dining table inherits the characteristics of high hardness and non-deformation of marble, has good abrasion resistance, and has no obvious scratches. Its physical properties are also available under constant temperature conditions. Compared with wooden or stainless steel dining tables, this dining table can adapt to humid environments, has good moisture resistance, will not rust, is acid and alkali resistant, dustproof, and easy to maintain. The marble material used in the marble dining table is simple in composition, good in processability, basically fine in texture, smooth and transparent, and can present a good mirror visual effect. The dining table looks more beautiful and enhances the grade.
Disadvantages of the marble dining table: The surface of the marble dining table is smooth and shiny. Once it is stained with some oil or water, it is difficult to wipe it off immediately. Over time, you can only make up for it with varnish. Natural marble material is easy to penetrate. Marble dining table has a certain degree of radiation due to the material of marble itself, especially artificial marble, which is not environmentally friendly without solid wood dining table. The marble dining table is not suitable for small-sized households. In addition to occupying a certain amount of space, it is also bulky and inconvenient to carry and move. As a kind of natural stone, marble will inevitably have radiation, and the finished dining table will inevitably also have radiation. The radiation of natural marble dining table is lower than that of artificial marble dining table. Basically, it will not hurt people. Individual inferior artificial marble dining tables may have too much radiation, so please choose qualified products when purchasing.