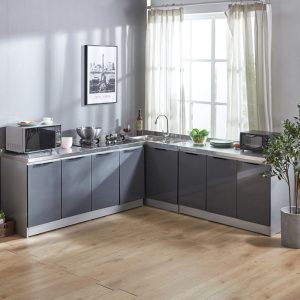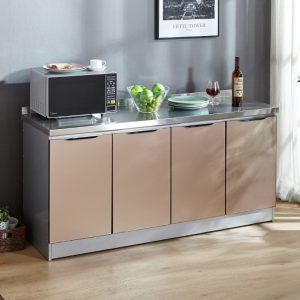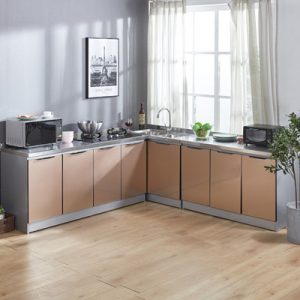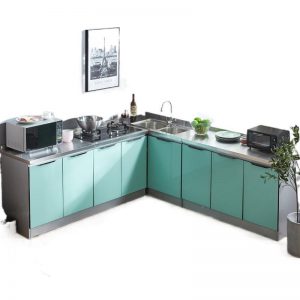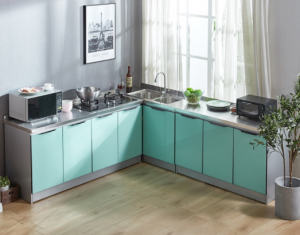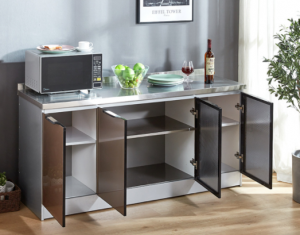 Product Name
kitchen cabinet
Products Size
80*50*82     100*50*82
Weight
Color Choice
natural color    Wood color  Blue, black, pink, yellow, white, red, brown, green, etc.
Material
stainless steel
Packaging
Sponge inside and standard exported carton outside ; 1pc/2ctns/0.3cbm
Warranty
2 Years
Application
Home,Restaurant,Hotel, Dining room,Canteen, Office Sofa
Our Service
Good service, including design, manufacture, aftersale and shipping.
Good price, from direct factory you will get good price from us
Fast lead time 15~35days per order
Sample also can send just will have little cost
Feature
Safe and healthy, orderly storage, strong bearing capacity, easy to clean, quality assurance. Large capacity and space saving.
What material is good for the kitchen cabinet
       1. Double-faced kitchen cabinet: The base material of double-faced kitchen cabinet is man-made board such as medium density board and particle board, and the outside is pasted with decorative paper of various colors and patterns impregnated with melamine.
The advantages of dual veneers are that they are very good in wear resistance, corrosion resistance, and deformation resistance, and the choices in appearance are also diverse and cost-effective, so they are also the most widely used.
2. Acrylic kitchen cabinet: also known as specially treated plexiglass, with strong three-dimensional effect. The acrylic cabinet door has good toughness and is not easy to be damaged; it has strong repairability, as long as the soft foam is dipped in toothpaste, the sanitary ware can be wiped new; the texture is soft, there is no icy feeling in winter; the color is bright, which can meet the individual pursuit of different tastes.
       3. Painted door kitchen cabinet: it is the base material door panel that is treated with the paint that is heated and dried in the drying room after spraying. The painted door has good waterproof and moisture-proof performance, durability, and is especially easy to clean. The color styles are also diverse.
4. Molded door kitchen cabinet: also called hollow plywood door, its material is made of medium density board, and then a decorative board made of PVC film. The molded door is rich in color, realistic wood grain, and will not crack or deform. Due to the strong plasticity, there is no need to seal the edges of the molded board, which solves the problem that the glue may open after the edge is sealed for a long time. Good waterproof performance and environmental protection.